Estimated reading time:
3 min
"Core values really defines who you are and it's really sad that in today's society there's not enough room and enough time and nobody teaching being able to focus in on yourself and who you are… It's just really finding out who you are, what you are, and what your core values are, and then building a life based around that."

Jason, Core Values And Your Future Success Podcast & Transcript
Identifying your Core values is incredibly important which is why 'I' have dedicated a whole sub section to them here.
This is because if you are in conflict with your core values internally during your daily life, whether at work or within your personal relationships then you will be unhappier as a result of this tension.
Your values determine your thoughts and then in turn your Human emotions. Your emotions can be thought of as your interpretation of whether your values are being met or not – see Maslow's Human needs from earlier for more on these.
Your behaviour is then driven by your emotions and thoughts which then form habits from your repeated behaviour.
Habits
Habits are important to identify in your life as they are those things that you can just fall into if you aren't paying attention or you are not consciously aligned to your core values.
Bad habits could be drinking or smoking too much when you are out with certain people, eating unhealthy junk food as a 'reward' for something you don't really enjoy, not playing any physical sport but instead playing video games because you feel anxious or don't want to see certain people etc.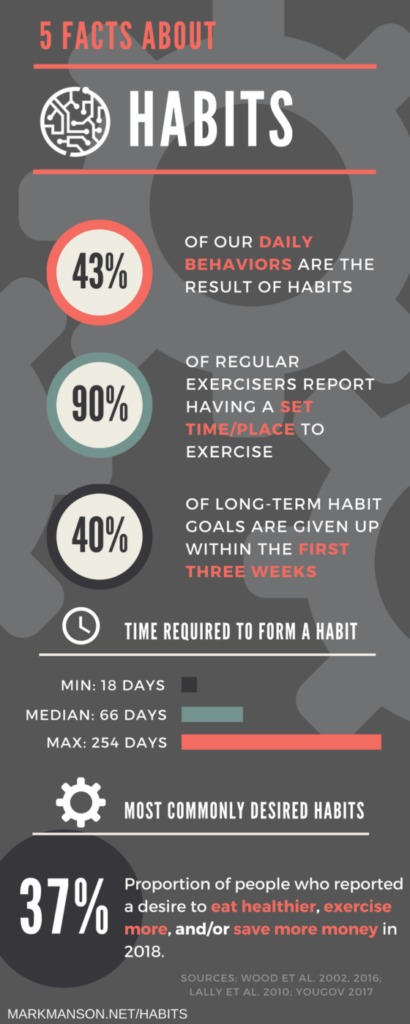 The good news is you can break the bad habits! See the link to Mark's site under the image above for his ideas on how to do this.
However, unless you have taken the time to work out around 5 core values you want to define you and try and base your everyday life around it's very hard to even be able to being to understand why you form your habits.
Living in tune with your Core Values is probably the largest factor that affects your happiness and well-being.

If you don't, then you are not aligned and you will be effectively being governed by your unconscious mind and be a passenger (again) in your own life.
Try and make a list of less than 10 Core Values you feel are essential to you and represent the real you (there's some suggestions in a list below).
Make sure you are as honest as possible when doing this and be warned, this will take a lot of patience and soul searching to be done properly!
If you find this step too hard on your own you might need to ask friends or family for help or maybe look online for other personal value based web sites or coaches.
When 'I' am doing this process myself 'I' always try and think back to times when 'I' have been at MY happiest in order to try and identity what values were driving this happiness as 'I' find this easiest. However 'I' also then try to think of those times when 'I' was angry, frustrated or bored in a situation or relationship to see if there were any values 'I' was not hitting and likely causing these negative emotions.
Once you have this list, try and honestly rate how each of these are aligned with your professional and personal life – use a scale of our of 5, out or 10 or % it's up to you. The important part of all this is being HONEST with your true self.
Are there small changes you can make in your life to boost some of these scores and therefore become closer aligned to your core values in your life which will then lead to greater fulfilment?
Below are some example core values to try and help you with this process. NOTE: The following list is NOT exhaustive and each of these can mean something different to you compared to others or be grouped differently by you and that is ok…
Core Values List
Achievement
Challenge
Competence
Credibility
Determination
Development
Effectiveness
Empower
Endurance
Excellence
Famous
Greatness
Growth
Hard work
Influence
Intensity
Leadership
Mastery
Motivation
Performance
Potential
Power
Productivity
Professionalism
Prosperity
Recognition
Risk
Significance
Skilfulness
Status
Success
Talent
Wealth
Winning
Bravery
Conviction Courage
Fearless
Creation Creativity
Curiosity
Discovery
Exploration
Expressive
Imagination
Innovation
Inquisitive
Intuitive
Openness
Originality
Uniqueness
Wonder
Amusement Enjoyment
Enthusiasm
Experience
Fun
Playfulness
Recreation
Spontaneous
Surprise
Energy
Health
Natural
Vitality
Accountability
Commitment
Dependability
Dignity
Honesty
Honour
Integrity
Responsibility
Sincerity
Transparency
Trust
Truth
Acceptance
Comfort
Compassion
Contentment
Empathy
Grace
Gratitude
Happiness
Inspiring
Joy
Kindness
Love
Optimism
Passion
Peace
Respect
Satisfaction
Thankful
Tranquillity
Welcoming
Autonomy
Freedom
Independence
Individuality
Liberty
Accuracy
Careful
Certainty
Cleanliness
Consistency
Control
Decisive
Justice
Lawful
Moderation Order
Organisation
Security
Stability
Structure
Thorough
Alertness
Attentive
Awareness
Beauty
Calm
Concentration
Focus
Presence
Silence
Simplicity
Solitude
Adaptability
Altruism
Balance
Charity
Communication
Community
Connection
Consciousness
Contribution
Cooperation
Courtesy
Devotion
Equality
Ethical
Fairness
Family
Fidelity
Friendship
Generosity
Giving
Goodness
Harmony
Humility
Loyalty
Maturity
Meaning
Selfless
Sensitivity
Service
Sharing Spirituality
Support
Sustainability
Teamwork
Tolerance
Ambition
Assertiveness
Boldness
Confidence
Dedication
Discipline
Ferocious
Fortitude
Persistence
Power
Restraint
Rigour
Self reliance Strength
Toughness
Vigour
Now you have a solid foundation of your core values to guide you hopefully you can use these with other techniques to improve your overall well-being 🙏
However, now we have discussed some of your internal experience in more general terms please get comfortable in order to get uncomfortable as we discuss the Human ego…